Find out how simplifying your employment offer letter can reduce time-to-sign and improve candidate experience.
Employment offer letters mark the beginning of a new employer/employee relationship; it should be an exciting time for both sides. But clunky manual processes create frustration and outmoded templates risk putting off the candidate altogether. This deep dive explores who is affected by employment offer letters, why they might benefit from simplifying their process and content, and how to do it. Use the navigation below to find out more, or explore our deep dives on other contracts, like NDAs and MSAs.
What's an employment offer letter? | Who do offer letters affect? | How to simplify the offer letter process | How to simplify your offer letter content | Learn more
What's an employment offer letter?
After a lengthy interview process, you've decided on your best candidate, and it's time to send through a letter offering them the job. This letter provides basic information about the role, as well as detailing the salary, terms and conditions, start date, and more. The offer letter is a touchpoint for negotiations between the candidate and the employer. You might provide further details in a separate, lengthier and more formal employment contract.
Who do offer letters affect?
Various stakeholders are involved in creating and sending offer letters. In the earlier stages of a business, the founders might be responsible for this process until there's a function in place to manage talent acquisition and hiring. People usually involved with an employment offer letter include:
The candidate. The offer letter reflects the job the candidate hopes to accept, the team they'll be joining, and the workplace culture they may influence. The candidate is the most crucial stakeholder as they will be most affected by the document.

Talent acquisition, hiring or people teams. These teams are responsible for maintaining business growth through employee headcount. They are usually the main point of contact for the candidate and aim to provide the best candidate experience – from the initial interview to signing the offer letter, to onboarding and beyond. A streamlined offer letter process means a better candidate experience and reduced time-to-hire, which can positively impact the business's hiring objectives.

The hiring manager. Depending on the vacancy and type of role, the head of sales might want to weigh in on the potential candidates joining the sales team. Similarly, the general counsel or head of legal might want to get involved with legal hires. The hiring manager is usually involved in agreeing the terms in the offer letter, so that the information reflects the nature of the job and the team.
Businesses still rely on Word and hard copy contracts. With no digitized alternative, candidates have to print, sign, scan and send offer letters. This is vastly time-consuming and can lead to friction
How to simplify the employment offer letter process
Before you think about the content of your offer letter, make sure that the contract process is as simple as possible. Here are three ways to overcome some of the common pain points that complicate and frustrate the offer letter process:
1. Maintain version control
Offer letters are usually negotiated in Word, which results in multiple versions of the same document doing the rounds. This increases the risk that wrong or out-of-date documents will be shared through human error, which will make the business seem unprofessional and can lead to a messy candidate experience. You may lose your candidate altogether – and your hiring metrics could take a hit.
By using a contract collaboration platform as your single source of truth, you can create dynamic, digital contracts made up of searchable and structured data, helping you to maintain version control.
2. Eliminate time-consuming manual work
Lots of businesses still rely on Word and hard copy contracts. With no digitized alternative, candidates – and internal stakeholders – have to print, sign, scan and send offer letters. This is vastly time-consuming and can lead to friction on both sides. The candidate may find the manual process frustrating, which slows time-to-sign and your HR team's workflow. It can also cause problems for the hiring team, whose projects might be on hold until the new hire is confirmed.
A contract collaboration platform that can handle the end-to-end contract process – templating, contract creation, negotiation, signature and management – allows HR teams to streamline the offer letter process, reduce time-to-hire and give candidates an digital alternative: an electronic offer letter they can sign anywhere, any time.
3. Have full workflow visibility
Creating and negotiating contracts using emailed Word and PDF documents is not transparent, which makes it impossible for HR and talent teams to identify (and eliminate) hold-ups. Documents may be stored on a shared drive, as a hard copy in a filing cabinet, or, even worse, on someone's desktop. With such limited visibility, maintaining an open channel of communication with the candidate can be hard, risking misunderstandings or disengagement altogether – not to mention a slower, clunkier hiring process.
Juro gives users full visibility of the contract process. Teams can see when parties have viewed the document, allowing them to follow up when things stall and to reduce bottlenecks. Plus, integrations with platforms such as Slack mean teams can receive regular or real-time notifications of contract updates.
Simplifying your employment offer letters will lead to faster signatures and a better candidate experience - check out our example to see how you can make your offer letters more engaging for everyone involved.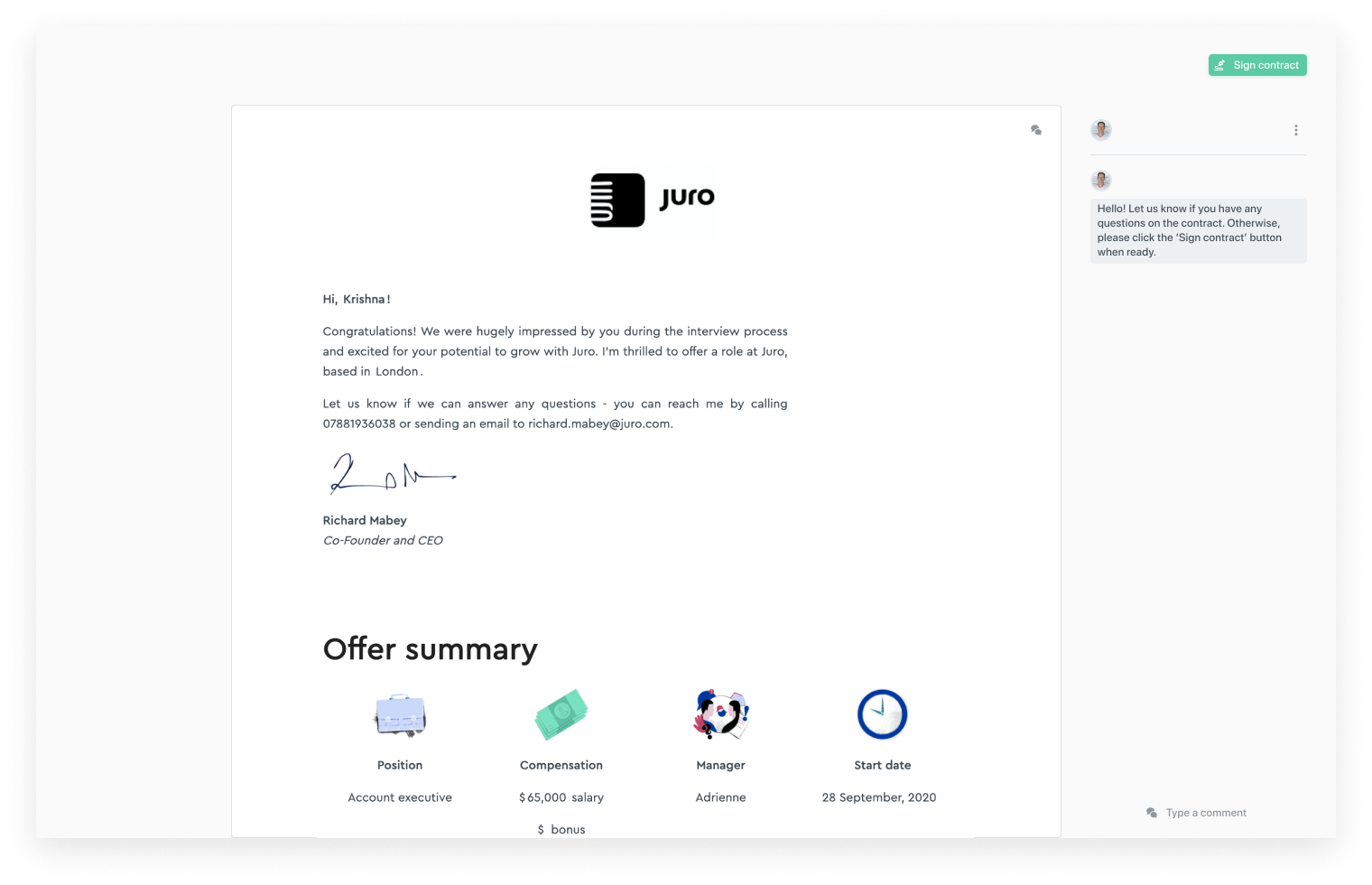 Want your offer letters to look like this? Click above 👆
How to simplify your offer letter content
An offer letter, aside from marking a joyful moment for both company and candidate, is an important business communication. Nailing the details is essential – and could be business-critical. The market for talent is competitive, especially with markets shaken so deeply by the COVID-19 pandemic. You need an edge to secure a star player, and it can start with something as easy as a clear and simple offer letter.
Legalese and long, jargon-laden paragraphs don't reflect your company culture, so don't use them in your offer letters
Offer letters are often weighed down by legalese, as well as regulatory and compliance burdens; they can look more like a statement of legal obligation than an exciting and accurate reflection of the company and its culture. Overloading candidates with information while skimping on personal warmth sets a bad tone for your new relationship.
By simplifying the offer letter and making it more human, you can stand out from the crowd, delight your candidates and convey the vision and values of your business. Candidates should be excited to join a new company, so make your simplified offer letter engaging and uplifting.
Here are a few steps towards creating a simplified offer letter:
Use accessible, friendly language
Legalese and long, jargon-laden paragraphs don't reflect your company culture, so don't use them in your offer letters. The offer letter represents the start of a new employee/employer relationship, so make it accessible, clear and – most importantly – friendly.
Put the important information upfront
Avoid ambiguity and potential misunderstanding by putting important information front and centre in your offer letter. Make sure your candidates won't have to dig around to find start dates, who to report to, how to request reasonable adjustments, salary, office access and accessibility, and probation periods, for example. And provide them with enough time to consider the offer itself without compromising momentum. Finally, give candidates a sneak peek into life at your business to get them excited about their new role. Set expectations by letting them know what their first week has in store and give them an insight into the onboarding process.
Personalize your offer letters
Standardized offer letters give the wider business a wealth of benefits – saving time and streamlining the hiring process – but don't miss the opportunity to add a personal touch.
Every candidate is different; you're offering someone the job because they had something the others didn't, so take the opportunity to say this in the offer letter. Mention the skills they had that caught your eye or commend them on their presentation that blew you away. Share positive feedback and let the candidate know that they aren't just another number receiving the same, mass-produced offer letter template. With the exception of large corporations and hypergrowth companies hiring 50+ people at a time, there's no reason why your offer letters shouldn't be personalised.
Prioritise accessibility and readability
Make sure your offer letter is inclusive and takes different needs into consideration. Accessibility should be a top priority, and you should reflect your values of inclusivity by providing a clear and well-structured offer letter. Consider the fonts and colours you use – your offer letter should be beautifully designed and branded but it also needs to be readable. And make sure the language is thoughtful and inclusive.
Candidates will need a mountain of information – both before they accept the role, so they can make an informed decision, and after, should their answer be "Yes". But cramming detailed information into one offer letter leads will slow things down. The candidate might disengage and take longer to make a decision, with a bigger risk that they will turn down the job if they feel frustrated at the lack of accessibility and readability in the document.
By using layering, different formatting styles or offering further information in well-signposted links to other documents, you can provide the need-to-knows without compromising readability. This will be especially important when you're sharing detailed information, such as data security policies, option schemes or pension plans. For great examples on how this might look, check out Monzo's T&Cs or Juro's privacy policy.
Brand it
Any other company document – whether it's a sales brochure or a customer email – would be branded consistently, so why isn't your offer letter? The offer letter reflects the company's public identity, and for candidates joining the business it's one of their first insights into the business's branding and tone of voice. Make sure that marketing and communications colleagues have contributed to and agreed on the design and visual direction of your offer letters, and that your documents reflect the company culture.
At Juro, one of our values is "be more human" – and this is reflected in the design and tone of voice of our documents. Our contract collaboration platform helps companies distribute beautifully crafted documents, so we use it for our offer letters too. It's a perfect opportunity to embody our mission and show off Juro's responsive eSigning capabilities.
Delight your candidates
Startups face a tough battle for talent – the little touches can make a huge difference between hiring great employees and missing out. Incorporating emojis, playful language, illustrations and personalization could help to make your attractive offer irresistible. Companies like Slack, Monzo and Stripe know how to do it; the ability to delight is a hallmark of many recent successful businesses.
Consider automation
Most HR and talent teams are working towards a time-to-hire metric. If you really want to reach that goal, automation is a must-have. An automated workflow can reduce your time-to-hire, streamline the overall process and win you back valuable time: Juro's customers typically report saving over 75% of time spent on admin and paperwork, as well as a better candidate experience with dynamic, branded and mobile-responsive offer letters. Automation can reduce your workload and help you focus on what truly matters – finding, hiring and onboarding brilliant candidates.
Is a poor offer letter process a pain point for your business, hurting your time-to-hire metrics and leading to a bad candidate experience?
Try Juro and see how you can benefit from a flexible DocuSign alternative that enables the business, reduces time-to-hire and gives your candidates the experience they deserve.