Find out how standardizing the employment offer letter can help hiring teams streamline the contract process and reduce time-to-hire.
Hiring new employees should be one of the happiest moments in a company's life. But often the offer letter process is often a bureaucratic nightmare. Manual, clunky processes slow down time-to-hire and can even put candidates off. This deep dive explores why companies might want to standardize their employment offer letters, and how you can do it. Use the menu below to find out more, or explore our deep dives on other common contracts, like NDAs and MSAs.
What's an employment offer letter? | Who do offer letters affect? | Why standardize offer letters? | How to standardize offer letters | Useful features | Learn more
What's an employment offer letter?
You've come to the end of a lengthy interview process and you've chosen the best candidate; now it's time to send through a letter offering them the job. An offer letter provides basic information about the role, but also includes details about the salary, terms and conditions, start date, and more. The offer letter is a touchpoint for negotiations between you and the candidate. You might follow up with additional details in a separate, lengthier and more formal employment contract.
Who do offer letters affect?
Once a business reaches a certain size, a number of different people may be involved in the offer letter process.
Talent acquisition, people operations, or hiring teams are responsible for growing or maintaining a company's headcount, and strive to provide a best-in-class candidate experience. The more streamlined the offer letter process, the less time it takes to hire a candidate. This means the candidate has a more positive experience and the business can achieve its hiring objectives.

The hiring manager for the specific role is usually involved in agreeing the terms and conditions set out in the offer letter to accurately reflect the nature of the role and its responsibilities.

Authorized signatories are the individuals who need to approve the employment offer letter and sign it internally – in many companies, this is still the company's CEO.

Candidates are also crucial stakeholders in the offer letter workflow. The employment offer letter might be the first written communication between candidate and their prospective employer and can have a big impact on their impression of the company and its culture.
Standardizing the perfect offer letter has never been easier - check out our example to see how you can create beautiful, dynamic offer letters that candidates are excited to sign.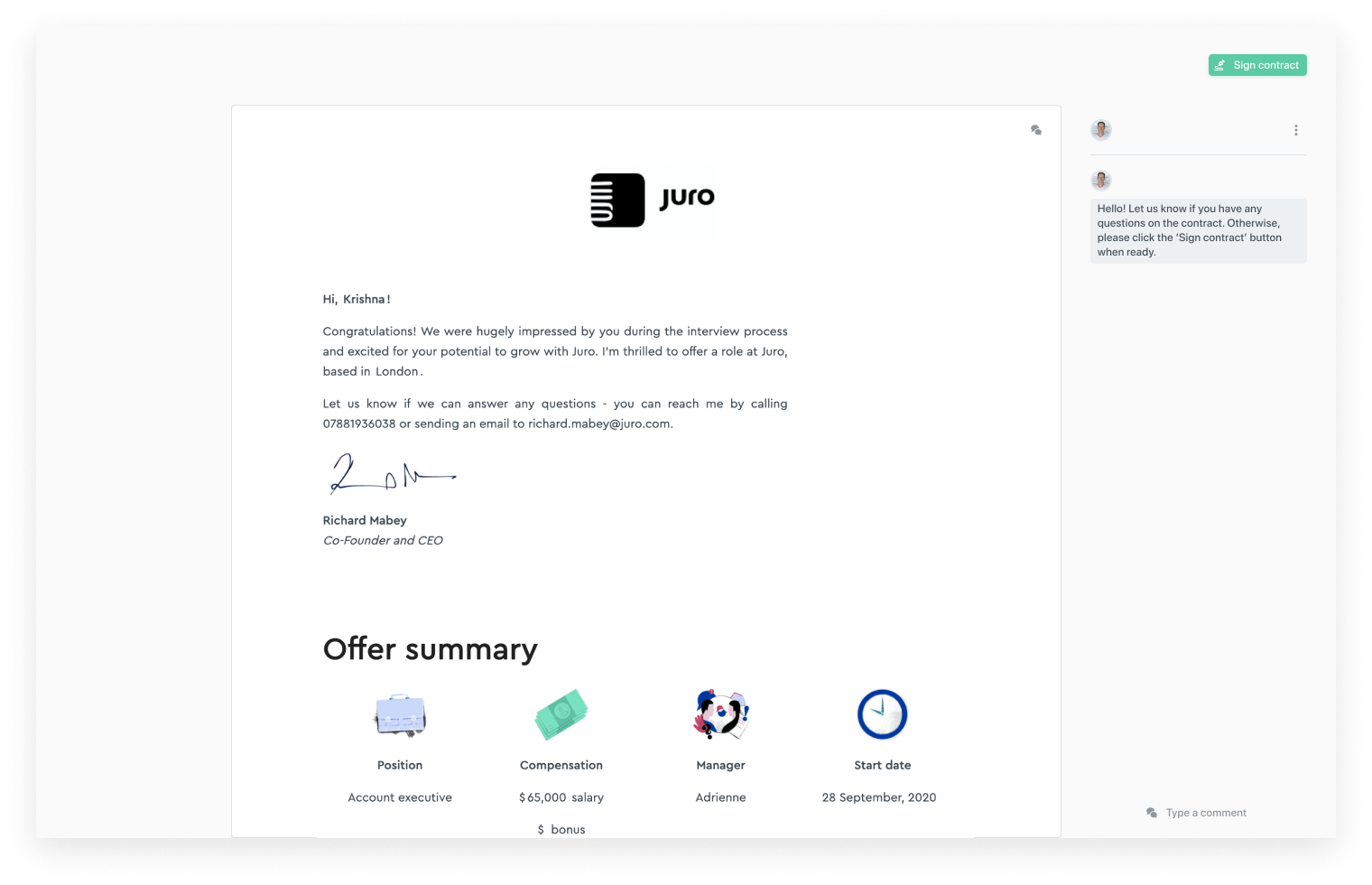 Want your offer letters to look like this? Click above 👆
Why standardize offer letters?
Standardizing your offer letters will introduce consistency and reinforce your brand and values. This will make a huge difference to how your business is seen externally. Offer letters that are assembled haphazardly, are inconsistently structured and styled, or lack any branding altogether reflect badly on the business: candidates might assume that the employer is unprofessional and disorganized, and cares as little for its existing staff as it does for prospective employees. By standardizing your offer letters, you can be confident that each and every one is well designed to wow candidates.
Taking time to standardize documents has long-term benefits, too. As the company continues to scale and hire at speed, creating individual offer letters from scratch will take too long. By setting up standardized templates, you can automate your offer letters and streamline the process through a contract collaboration platform.
Make sure the candidate feels like an individual instead of another cog in the machine, receiving the same mass-produced template
How to standardize offer letters
Standardizing doesn't mean you can't stand out. To craft offer letters that truly reflect your business, here are some things to consider:
Think about the language you use

Nothing kills the excitement of starting a new job more than a 12-page document full of legal jargon. It doesn't reflect your company culture and sets the wrong tone for the employee/employer relationship. Keep your language clear, accessible and human.

Include all the need-to-know details

Make sure all the crucial information is in there, so the candidate can make a well-informed decision. Don't hide the important stuff; keep all the need-to-know details front and centre to avoid ambiguity and miscommunication. This includes, for example, start dates, who to report to on the first day, line manager name, salary details, access requirements and reasonable adjustments, the length of the probation period and acceptance date.

Talk about onboarding

The first week in a new job is exciting – so tell the candidate about the things they can look forward to when they start. Offer them an insight into the onboarding process, let them know what they can expect and give them things to get excited about.

Focus on the details

Standardizing your documents means you can dedicate more time to personalizing each offer letter. If the candidate gave a presentation and their creativity caught your attention, mention it. Share positive feedback from interview panellists, and make sure the candidate feels like an individual instead of another cog in the machine, receiving the same mass-produced template.
Standardization is useful from an efficiency and branding perspective, but saving space to personalize is invaluable. Aim for 80% standardization and leave 20% for that all-important personal touch.
Useful features for standardizing offer letters
If you're planning to use contract collaboration software to standardize your offer letters, these features can make a big difference:
No-code template editor. Having a single source of truth can prevent version control problems.

Q&A flows. Offer letters can be autopopulated with information from a Q&A workflow. This can help HR teams to self-serve as it allows them to create contracts by answering simple questions, minimizing the risk of human error and preventing the need for oversight from the legal team.

Smartfields. Smartfields create metadata, making the offer letter searchable and easier to manage.

Internal and external commenting. Internally, commenting functionality can streamline editing and ease cross-functional collaboration. Externally, it can improve the candidate/employer negotiation process by making it easier for the candidate to suggest changes and ask questions without revising the document itself.

Dynamic editor. Being able to brand your offer letters and include visuals is a plus. It also makes the document more user-friendly, engaging and welcoming. Creating an offer letter that gets candidates excited will always result in a faster time-to-sign than a mass-generated document overloaded with information.

Conditional logic. Being able to change the information in the contract depending on certain conditions will make customization quicker. For example, a conditional logic feature can automatically adjust the salary scale in the offer letter according to the role. This means that all offer letters can be served by the same template.

Mass actions. Your hiring objectives will scale with the business and you may reach a point where you're hiring more than 50 people at one time. If the CEO is still an authorized signatory on the employment offer letters, manually signing 50 contracts is a waste of their time. Mass actions allow the signatory to sign multiple contracts with a single click, saving time and removing bottlenecks.
Is a poor offer letter process a pain point for your business, hurting your time-to-hire metrics and leading to a bad candidate experience?
Try Juro and see how you can benefit from a flexible DocuSign alternative that enables the business, reduces time-to-hire and gives your candidates the experience they deserve.