People still have a bad experience with non-disclosure agreements (NDAs). How can we simplify the NDA process?
This deep dive explores who NDAs affect, why they might benefit from simplifying the content and process around NDAs, and how to do it. Use the navigation below to find out more, or explore our deep dives on other contracts, like MSAs.
What's an NDA? | Who do NDAs affect? | Why simplify NDAs? | How to simplify your NDA process | How to simplify your NDA content | Useful features | Learn more
What's an NDA?
In a non-disclosure agreement (NDA), two or more parties make provision for confidential material that they'd like to share with each other and to prevent this material from being shared with anyone else. NDAs enable confidentiality and privacy when it comes to sensitive or proprietary information – like commercial terms, product information or trade secrets – and are some of the most common contracts in the business world, with wide-ranging applications. They can be unilateral, which means that only one party is bound by duties of non-disclosure, or mutual, meaning both parties are.
Who do NDAs affect?
NDAs can affect many different teams in a business, in different ways.
Various teams in a business might need to send out NDAs, including sales, legal, HR, finance, operations and procurement. Anyone who needs legal certainty around confidentiality is a potential NDA user.

Legal counsel typically own the NDA template, and usually have the approval rights too (although someone specific in the leadership team may need to approve a particularly sensitive NDA).

Authorized signatories sign the contract on behalf of the business.

The NDA counterparty could be practically any company, organization or individual. At Juro, we see NDAs across a huge variety of companies, from B2B SaaS providers and marketplaces to retail, media and fintech.
Why simplify NDAs?
Legal processes have for too long been designed to be by lawyers, for lawyers. But the people on the receiving end of an NDA are often not lawyers. At Juro we focus on the end user's experience to make sure that, though contracts may be necessary, they're not a necessary evil.
NDAs don't need to be scary. It's perfectly possible to create a watertight NDA that's also simple, accessible and user-friendly – just look at our example. Simplifying your NDAs will likely lead to faster signatures and better results for everyone involved.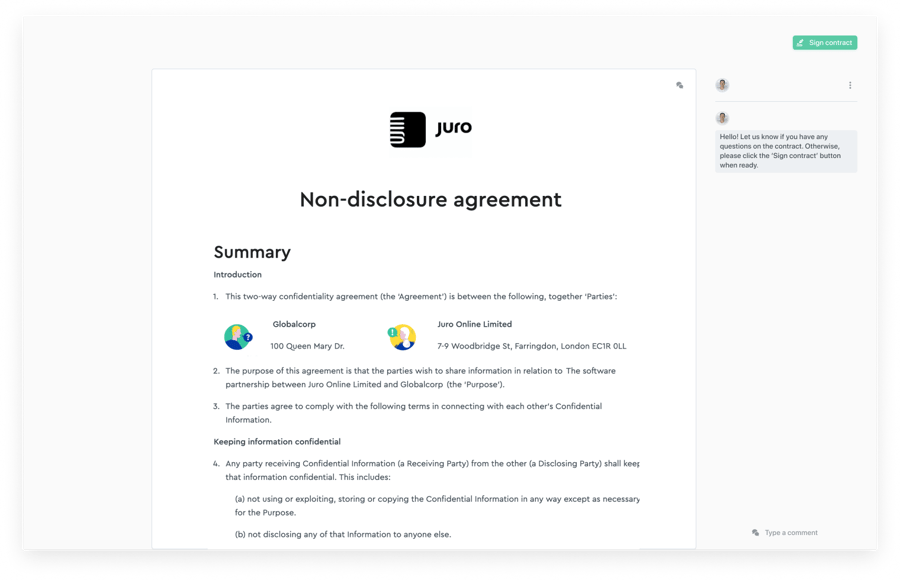 Want your NDAs to look like this? Click above for a free Juro account 👆
How to simplify the NDA process
Before you tackle the words on the page, make sure that the contract process itself is as simple as possible for both parties. In our experience, two things make the NDA process more complicated than it needs to be: multiple tools and file-based workflows.
Find one platform that does it all
For too many businesses, getting an NDA over the line means hunting through a shared drive to find an up-to-date template, tracking changes in Word, negotiating over email, signing in DocuSign and then trying to make sense of where to store it. This is frustrating, time-consuming and risky. Just find one platform that can handle templating, contract creation, negotiation, signature and management. Your company accounts will thank you, too.
Choose a service that's structured and searchable
Lots of tools means lots of files – and that means room for error and data loss, and a messy experience for your counterparty. Choose a contract collaboration platform that works with contracts as dynamic, digital data models, so that everything is structured and searchable from day one, and version control isn't ever a problem again.
How to simplify your NDA content
There's an art to delivering complex messages concisely. And your legal team will be the ones to decide whether to include the commercial elements behind the contract clauses. But the following principles can help you to simplify your NDA content and speed up time-to-sign.
Ditch the jargon
Legal documents are difficult enough without being weighed down with language that doesn't add anything. Try to say what you mean in plain English.
Put the important information up front
Don't bury the contentious bit that you know the counterparty will be looking for. Put the important information – like effective date, agreement length, and so on – front and center.
Don't bury the contentious bit that you know the counterparty will be looking for. Put the important information, like effective date, agreement length and so on, front and center
Use layering and linking
If you need to refer to a longer set of terms, like your standard site Ts and Cs or your data privacy notice, then use layering, cross-references or links to structure the document or point people to additional info.
Design with mobile in mind
The best contract collaboration platforms offer mobile-responsive, in-browser contract workflows. If you've engineered your NDA to be ready for a quick signature, can you give counterparties the power to eSign on the move?
Useful features for simplifying NDAs
Dynamic editor. If you're adding branding, logos or visual elements to your NDA then you'll need a dynamic, no-code template editor that can handle GIFs, PNGs and JPEGs.

Q&A flow. Empower your colleagues to create NDAs from the legal-approved template by using a natural-language Q&A flow to populate the document.

Mass actions. Find a platform that lets you create and sign multiple contracts at once [like this], so your NDA isn't left sitting in an authorizer's inbox along with hundreds of other contracts awaiting signatures.

CRM integration. If getting NDAs to prospects is a key part of the process for salespeople, then let them do it in the CRM system that they live in all day. A contract collaboration platform with a two-way live data sync will make sure your records are always up to date and will keep things simple for your busy sales reps.
If your contract workflow is supercharged with all these features, your simple NDAs will speed up signing and lead to happiness on both sides of the contract.
Is simplifying NDAs a pain point for your business? Is your SaaS company or marketplace growing so fast that the contract process is out of control, with friction pre-signature and a lack of visibility post-signature?
If so, try Juro and see if you could benefit from a contract collaboration platform that enables businesses to agree and manage contracts all in one unified workspace.