If your business hits repeatable growth, how do you make non-disclosure agreements (NDAs) scale with the business, instead of blocking it?
This deep dive explores the impact of NDAs in a business, the problems you might encounter with scaling them and how to do it in a way that enables your commercial teams. Use the menu below to find out more, or explore our deep dives on other contracts, like MSAs.
What's an NDA? | Who do NDAs affect? | Why scale your NDA workflow? | How to scale your NDA workflow | Learn more
What's an NDA?
In a non-disclosure agreement (NDA), parties agree on confidential material they'd like to share with each other but prevent from being shared with anyone else. NDAs help to assure confidentiality and privacy when it comes to sensitive or proprietary information, and they're some of the most common contracts in the business world. NDAs can be unilateral, meaning only one party is bound by non-disclosure duties, or mutual, meaning both parties are.
Who do NDAs affect?
Non-disclosure agreements affect various teams in a business, in different ways.
Many different teams might need to send out NDAs, including sales, legal, HR, finance, operations and procurement. Anyone who needs legal certainty around confidentiality is a potential user.

Legal counsel typically own the NDA template, and usually have the approval rights too – unless it is a particularly sensitive NDA, which may need to be approved by someone specific in the leadership team.

Authorized signatories sign the contract on behalf of the business.

The NDA counterparty could be practically any company, organization or individual. At Juro, we see NDAs across a huge variety of companies, from B2B SaaS providers and marketplaces to retail, media and fintech.
Why scale your NDA workflow?
Most companies make do with some combination of Word documents, discussion and negotiation over email or by phone, print-sign-scan-send or perhaps eSignature for their contracts. But it is critical to make sure that the process by which you agree and manage NDAs can scale – particularly in a business that's growing fast:
They are high-volume from day one … NDAs are a key business facilitator, especially in industries like B2B SaaS. Salespeople often need to establish confidentiality through NDAs to be able to discuss commercial terms, meaning that they're needed even for deals that might ultimately be lost. NDAs are a commonly used and often essential prerequisite for doing business, so you need a frictionless process that allows you to move quickly, instead of spending the first few weeks of a valuable business relationship chasing Word documents through email inboxes.
… and they'll only increase in number. Does your business plan to grow? Hopefully, the answer is "Yes" – and if it is, you need to be ready for NDA volumes to grow too. Without a scalable workflow, your commercial teams are unlikely to find a straightforward way to go from 5, to 10, to 20, 50 and 100 contracts a month via a manual process.
Legal teams don't scale proportionally. High-growth companies tend to hire their first in-house counsel on average somewhere between employee 100 and 150, which is usually too late. And businesses don't employ one lawyer for every commercial employee capable of exposing the business to legal risk. This means that legal teams need to find a way to control NDA risk with a ratio of one or two lawyers to dozens of salespeople.
Things change. Privacy commitments, agreement lengths, or legal entities following acquisitions change, and the company's commercial red lines are also likely to change over time. To make sure that NDAs are always accurate, they need to be reviewed and updated. If you have to search shared drives to find the latest version, then there's a huge risk of agreeing contracts with the wrong terms. And this could have serious consequences. If things change, you need to be able to reflect those changes at scale.
Without a scalable workflow, your commercial teams are unlikely to find a straightforward way to go from 5, to 10, to 20, 50 and 100 contracts a month via a manual process
How to scale your NDA workflow
Follow these steps to create an NDA process that's collaborative, flexible, friction-free and scalable.
Do some research
Look back at previous NDAs to identify which terms are most commonly negotiated. Can you soften them to make it likelier that you'll get a quick signature without needing to negotiate? For a low-risk document, speed can often outweigh minor commercial concerns.
Design the perfect NDA
Create an NDA template that features terms the business can accept, but which are optimized for signature. Make sure the template also employs legal design principles and is accessible, user-friendly and free of legal jargon. Here's our Juro NDA 👇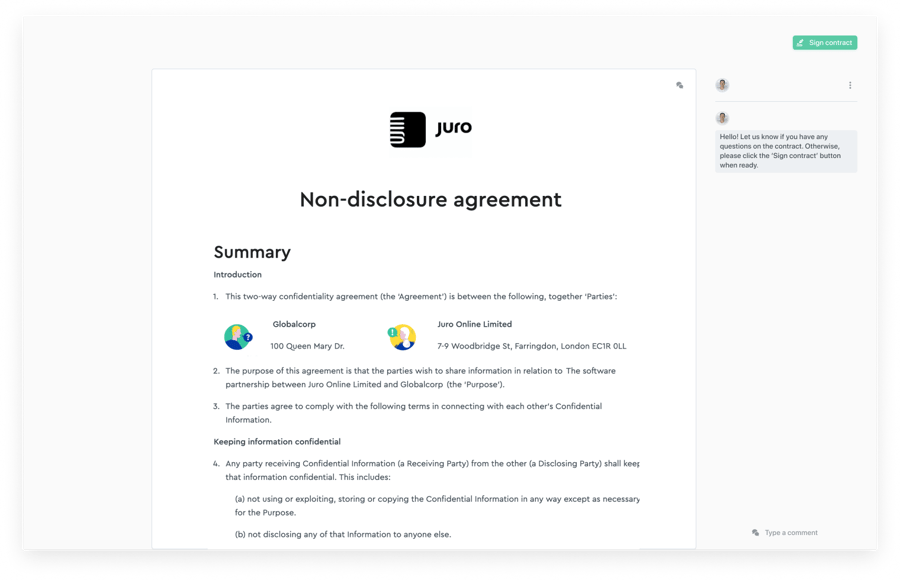 Want your NDAs to look like this? Click above 👆
Codify fallback positions
Occasionally, counterparties will negotiate, so make sure you're clear what you're willing to concede. Legal teams often codify this in a playbook, which empowers commercial teams to negotiate while staying in certain parameters. You could even bake these positions into your NDA template by using conditional logic, so that users can vary the NDA based on negotiation by the counterparty.
Make it self-serve …
Use a natural-language Q&A flow that allows users to create and populate NDAs on demand from the template. This means that legal, who've already set up the template, can remove themselves from the pre-signature part of the workflow and won't become a bottleneck when commercial headcount suddenly scales and demands grow.
… but use an approval workflow if needed
If the business isn't comfortable with commercial colleagues self-serving NDAs with no legal input whatsoever, you can use an approval workflow to make sure the legal team still has the final say on contracts.
With all this in place, you'll have a supercharged NDA workflow that will scale with the business – so let's get started!
Is back and forth on NDAs a pain point for your business? Is your SaaS company or marketplace growing so fast that the contract process is out of control, with friction pre-signature and a lack of visibility post-signature?
If so, try Juro and see if you could benefit from a contract collaboration platform that enables businesses to agree and manage contracts all in one unified workspace.