Remove manual, inflexible processes and improve time-to-hire: here's how digitizing your offer letters can make a huge difference.
Offer letters mark the beginning of a new employer/employee relationship – it should be an exciting time for all involved. But clunky manual processes slow down time-to-hire and can put candidates off. This deep dive looks at how digitizing your employment offer letters can make a huge difference to both the company and the candidate. Use the menu below to find out more, or explore our deep dives on other contracts, like NDAs or MSAs.
What's an employment offer letter? | Who do offer letters affect? | What's the manual offer letter process? | Why digitize your offer letters? | How to digitize your offer letters | Useful features | Handy integrations | Learn more
What's an employment offer letter?
The employment offer letter is the most common type of contract and exists from the earliest stages of a business – after all, employee number one needs to give employer number two a job. This document offers the successful candidate the job and sets out important details, such as start dates, salary, compensation and more.
Who do offer letters affect?
The stakeholders involved in the offer letter workflow are usually determined by a company's size. For example, a startup may not have a people function in place and so its founders might be responsible for the offer letter process. Once a business has its own people team, the people usually involved in the offer letter process include:
People operations, talent acquisition or HR teams. These teams may use applicant tracking systems (ATS) to manage new hires.

The hiring manager. This person will vary with each role. They are usually involved in editing the offer letter to reflect the most accurate terms of the job.

Authorized signatories. This often includes the CEO. These signatories will need to sign every employment offer letter on behalf of the business before it's sent to the candidate.

The candidate. Often, the offer letter will be the first written communication between the candidate and the employer, so they are a significant stakeholder.
What does a manual offer letter process look like?
The manual offer letter workflow can be clunky and time-consuming, limited by Word, PDF and the print-sign-scan process. Typically talent acquisition, HR or people teams create an offer letter template in Word, which might be saved on a shared drive. Users download this template – which may or may not reflect the company's latest brand or values – and manually input information about the candidate, vacancy and job details.
They email the document to relevant stakeholders, including the legal team and the hiring manager for the role, and the letter undergoes several rounds of amends and is shared back and forth. Stakeholders make edits to the document in Word, save it as a PDF and recirculate the latest version, without a full audit trail of these updates.
Once approved, the offer letter is sent to the candidate. Negotiations begin, involving more back-and-forth over email and more versions of the document being created. If the candidate decides to accept the offer, they need to sign the letter, which means printing, signing and scanning it before sending it back to the employer. This signed document is saved on a shared drive, as a hard copy in a filing cabinet or (worse) a local drive, and copies might be individually emailed to stakeholders.
As the business scales, it might make small improvements to this process, empowering particularly departments to authorize the letters, replacing wet signatures with eSignatures, and swapping Word files for Google Docs.
What are the pain points?
The pain points in the offer letter workflow affect hiring teams, the wider business, and candidates. Some of the most common pain points are:
Time-consuming, manual processes. Having to print, sign and scan each document, or chase them through email inboxes, is a time-consuming process that means hiring teams can't dedicate their time towards high-value work, like talent acquisition.

Duplication of work: hiring teams often end up entering the same information into two or more different systems – once in the ATS and once in the Word template. This is not only a duplication of effort (which wastes time and creates frustration), it also leads to ...

… lack of data integrity. There's a higher chance of human error with manual processes – and mistakes can create legal risk and make the business look unprofessional.

Poor candidate experience. Technology companies claim to be innovative and game-changing, but their offer letter workflow doesn't always reflect this. Some processes are straight out of the 1970s, creating a poor – and inaccurate – first impression of the company that the candidate had been excited to join.
There's a higher risk of human error with manual processes, and mistakes in offer letters can make the business look unprofessional
Why digitize your offer letters?
Digitizing your offer letters through a contract collaboration platform offers a wealth of benefits to all stakeholders, the company and the candidate.
Less manual work. A digitized offer letter means you never have to copy and paste from old Word templates – and your candidate won't need to go through the laborious print-sign-scan-send process. By bringing the end-to-end contract process online, you can spend more time less time on admin and more time on finding star talent.

Data integrity. By integrating your digital offer letters with your ATS, you can reduce the risk of human error across your documents, and make sure your documents are always accurate and up to date.

Faster time-to-hire. Send beautiful offer letters within minutes of reaching a decision. Candidates can eSign anywhere and on any device, decreasing your time-to-hire and streamlining the experience.

Better employer branding. It's easy to create attractive, digital documents that reflect the nature of your company and excite your candidates. Digitizing your offer letters means you can make a great impression with consistent and well-designed documents that stand out from the crowd.
How to digitize your offer letters
The offer letter workflow when you use a contract collaboration platform typically looks like this:
Getting the fundamentals in place
Hiring and legal teams work together to create the master templates for offer letters. These templates are easy to access from a single source of truth and help you to manage version control. For some job openings, talent acquisition, people or HR teams may confirm the details with the hiring manager, and senior leadership may also be involved.
Autopopulating the letter content
Talent acquisition, people or HR teams will use a Q&A flow to enter data into smartfields, answering simple questions – such as candidate name, role remuneration and start date – that then autopopulates the offer letter.
Making changes collaboratively
Stakeholders can suggest changes to the offer letter with in-browser commenting features, removing the need for a back-and-forth email chain and managing version control.
Getting that all-important signature
The offer letter is sent to the candidate, who can accept the job offer in seconds by eSigning securely on any device, anywhere. They can even sign on their phones as they walk back from the successful interview.
Creating searchable records
This signed document is automatically updated in the contract collaboration platform and emailed to all parties. Its metadata means it's now searchable forever and easy to manage.
Decrease time-to-hire with a secure, mobile-responsive eSignature solution that allows candidates to accept your job offer from anywhere, at any time
Digitizing your employment offer letters will lead to faster signatures and a better candidate experience - check out our example to see how you can make offer letters more engaging for everyone involved.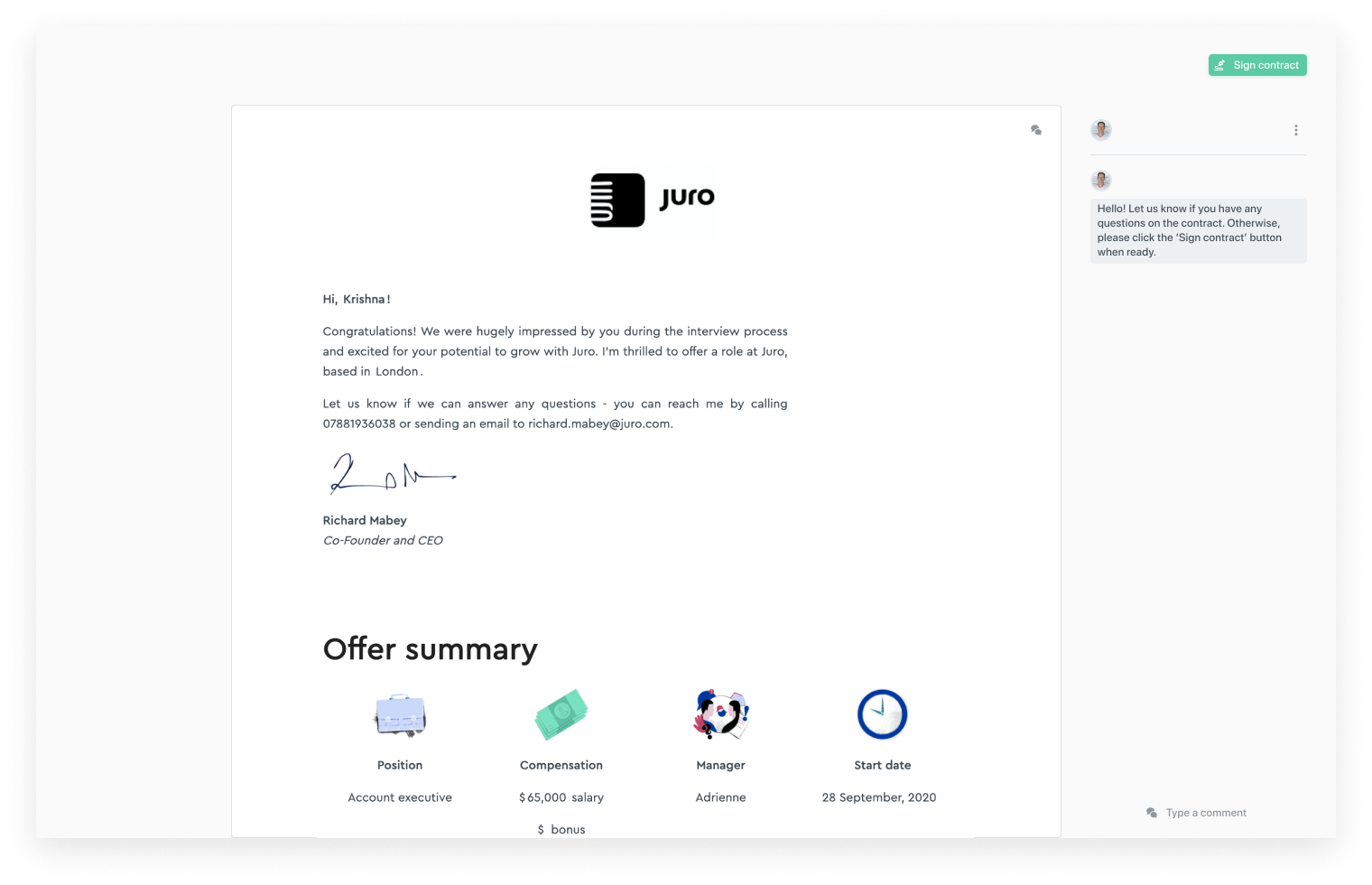 Want your employment offer letters to look like this? Click above 👆
Useful features for digitizing offer letters
If you're interested in using a contract collaboration platform, look out for the following features, which will help you digitize your offer letters:
Rich, dynamic editor. Excite your candidates with a well-designed, well-branded offer letter. A dynamic text editor allows you to add images and GIFs, as well as tables and charts to present complex information clearly.

Internal commenting. Make changes to the offer letting quickly and easily with in-browser commenting function that allows hiring teams and managers to suggest amends before the offer letter is sent to be signed.

eSignature. Decrease time-to-hire with a secure, mobile-responsive eSignature solution that allows candidates to accept your job offer from anywhere, at any time.

Mass generation. When you're working at a high-growth scaleup and hiring dozens of employees at a time, mass generation is essential. A contracts platform like Juro can mass-generate those offer letters for you and have them all signed instantly.
Handy integrations
Greenhouse integration. This can help high-growth tech businesses track their applicants and maintain reliable, synchronized data across your contract collaboration platform and ATS. Other providers are also available.
Slack integration. This enables contract notifications in real time, giving the whole company visibility across the hiring process so that you can celebrate new hires together.
Google Drive integration. This means that agreed terms are automatically downloaded when the offer letter is fully signed, and securely stored on the team's shared drive.
Using Juro for our HR contracts has been a game-changer for me. Moving HR online adds to the candidate experience; we have really slick contracts to sign online rather than lawyers sending candidates a 15-page document from the dark ages!—Legal team, Appear Here
Is a poor offer letter process a pain point for your business, hurting your time-to-hire metrics and leading to a bad candidate experience?
Try Juro and see how you can benefit from a flexible DocuSign alternative that enables the business, reduces time-to-hire and gives your candidates the experience they deserve.